Welcome Davalynn Spencer to Tea and a Good Book!
Wife and mother of professional rodeo bullfighters, Davalynn Spencer began her writing journey in the national rodeo market, winning awards in the process. Today she writes inspirational western romance – both historical and contemporary - and teaches writing at Pueblo Community College. She and her handsome cowboy have three children and four grandchildren and make their home on Colorado's Front Range with a Queensland heeler named Blue. Connect with her online at
www.davalynnspencer.com
,
www.Facebook.com/AuthorDavalynnSpencer.com
and on Twitter @davalynnspencer.
1. If I could have a super power, it would be flight – as a bird on the wing or a horse on the run.
2. I wrote my first story in the sixth grade.
3. The second story I wrote (six years later) was about a cowboy come home to heal up after being injured at a rodeo. The next year I met him. Two years later, I married him.
4. Bacon makes everything better.
5. While vacationing in Southern California, I was on the Price is Right and took home the loser consolation prize of a suitcase, a carton of Jelly Belly Jelly Beans, and a blender that sounded like a tractor. I thought I did all right because the grand prize of the day was a vacation to Colorado. We live in Colorado.
6. Writing is a compulsion. I must find the words to show what I imagine or see or feel or smell … I must find just the right words to paint the message of God's great love story.
7. I prefer shoes with no shoe strings.
8. My favorite ice cream is also Colorado's favorite ice cream: Chocolate mint chip. I knew I loved this state for a reason.
9. When my husband was seriously injured during his rodeo bullfighter days, I dressed up in his baggy pants and carried on with the comedy acts between rodeo events. Didn't fight bulls during the bull riding, though. Mama didn't raise no fool.
10. I love storms. Maybe it's because I've always lived near mountains and I'm awed by the power and intensity of a storm that rolls up against the Rocky Mountains and thunders down their rugged slopes. Or maybe it's because storms remind me that I serve a God who wraps himself in light, makes the clouds his chariot, and rides on the wings of the wind (Psalm 104:2, 3).
Thank you, Davalynn! I love #3...and I'm curious about #9! That sounds like quite a story...oh my goodness!
Davalynn has graciously offered to giveaway a copy of her newest release, Romancing the Widow, to one randomly-chosen commenter!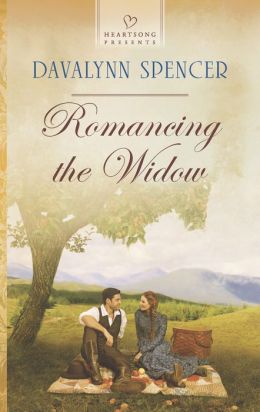 Martha Stanton Isn't Looking for Love
The light went out of Martha's soul when her husband fell to a bullet in St. Louis. Now, back in her hometown of Cañon City, she's convinced she'll never know happiness again. Until she crosses paths with a darkly mysterious Colorado Ranger.
Haskell Jacobs has a mission. And the beautiful, flame-haired widow sure isn't it. But Martha is somehow mixed up in the crime that brought Haskell to the rough-and-tumble town…and soon, she's entangled in the lawman's heart. But the danger that lurks around them is all too real. Can they find strength and love in each other before it's too late?
To enter, please leave a comment with a way to contact you by 11:59 PDT Thursday, July 31, 2014. The winner will be announced here!