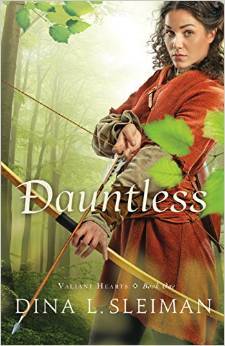 I'm a fan of Dina Sleiman's previous novels, so I was excited to read
Dauntless
, the first in the
Valiant Hearts
series.
While the book is YA, that doesn't mean it isn't rich in plot or theme; it was fully enjoyable to me as an adult reader. Sleiman does a great job with the medieval setting, quick-moving plot, compelling and imperfect female and male characters, a sweet romance, and a strong faith element.
Merry Ellison is a brave, smart heroine that serves as a fine role model to younger readers. A bit of a female Robin Hood, she engages in plenty of swashbuckling action while she contends with her faith, the ethical dilemma of stealing from the rich to help the poor, and the pain of her past.
I recommend this book to any fan of inspirational historical novels, adult and teen.
Thanks to Bethany House for providing a novel in exchange for my honest review. A positive review was neither promised nor expected.